Vrindavan Poster Set (12 Posters in Folder)
Glimpses of the Sacred Land of Vrindavan

"If one lives in the earthly land of Vrindavan: touches it, sees it, travels to it, meditates upon it, bows down to offer respect to it, sings or hears about its glorious qualities, carries its dust on his head, or has any relationship with it then this purifying earthly Vrindavan will carry him to the Supreme Abode of Vrindavan in the Spiritual World."
The twelve Braj Mandal Posters come in a beautiful folder with full-color printing on the front and back.


Each poster is a thick laminated sheet for long life and durability.

This is a good sovenier of Vrindavan that will remind you of Krishna's pastimes described in Srila Prabhupada Books.

These posters bring Vrindavan very close to you.

Even those who have never visited Vrindavan

can remember Braj Mandal thru this collection of posters.

These atractively presented posters make the perfect gift for anyone on some special occassion

They are ideal for displaying around the walls of the Temple Room in your house.

Even if you keep these Braj Mandal posters in the folder on your book shelf any time they you want to remember Vrindavan this collection of images will help you.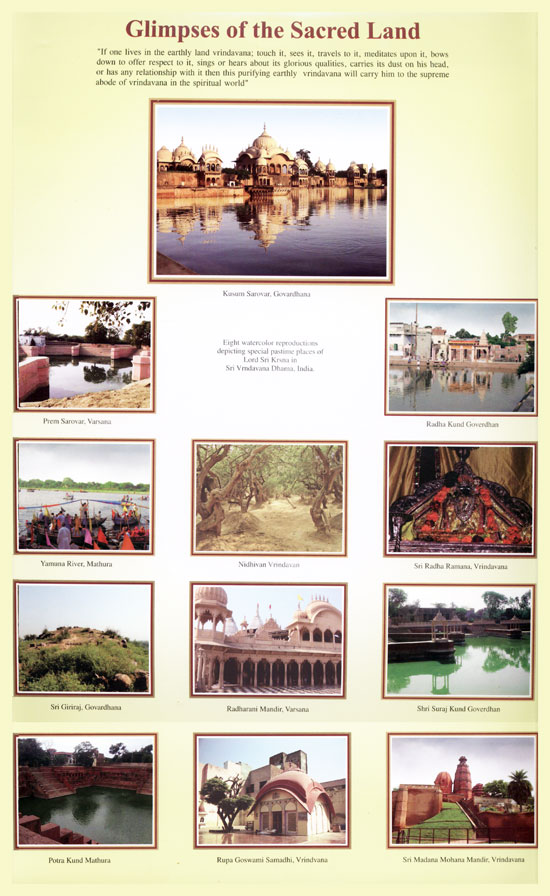 Larger Samples of the Vrindavan Posters