Tulsi Neck Beads - 3 Strand w/ Small Round & Colored Beads
Available with Black, select from the color selector above.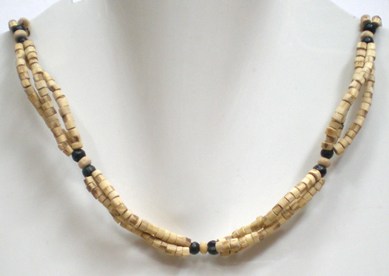 Size

Approximate Necklace Length around the neck: 16"-16.5" (inches) (Approx 40-42 cm)
Why Wear Tulsi Beads?
Tulsi beads come from the Tulsi plant. The spirit of the plant, Tulsi Devi, is a Goddess and a Vaishnava devotee. Wearing neck beads made from Tulsi wood is a protection from things both physical and non-physical.
Care for Tulsi Beads
Many people wear their Tulsi Neck Beads all the time, even to bed and in the shower. To keep them in good condition, though, it is recommended to take care of them. For information on how to increase the longevity of your tulsi neck beads, go to the following article: How to Strengthen Tulsi Beads